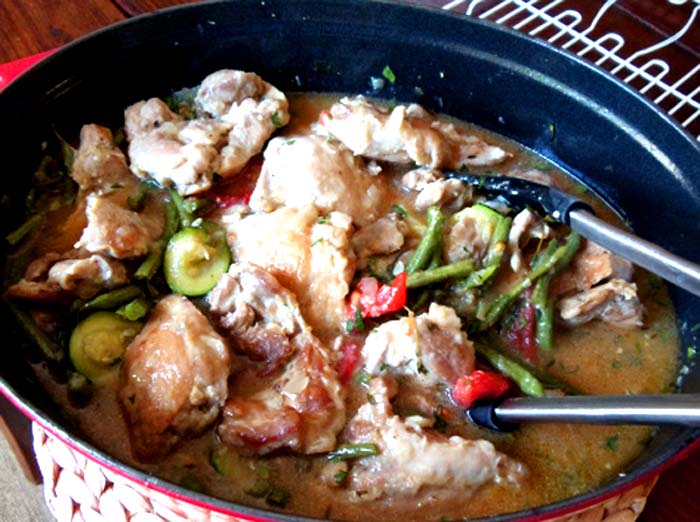 Braised Chicken with Summer Vegetables and Herbes de Provence
Our articles may contain affiliate links. For more information, view our policies.
Produce is a gift of late summer and early fall. It inspires me to cook colorful savory and sweet dishes. This particular recipe was one I created for  Family Farm Box. It was originally designed with picky eaters in mind, (like my daughter). And although this braised chicken dish is a crowd-pleasing option for a family meal, it's also one that's suitable for a romantic evening.
What is braising?
Braising is a technique well-suited to a romantic dinner. That's because the dirty work is done in advance, giving you time to relax and prepare yourself for seduction. If you aren't familiar with braising, this is a technique you should get to know.
Although braising is sometimes confused with stewing, braising offers so much more! Just try this braised chicken recipe once and you'll immediately understand. It's a technique that uses both dry and wet cooking.
First, the meat, in this case chicken, is seared. Then, after the pan is deglazed, (all the flavorful, brown bits scraped from the bottom), and the sauce is thickened, the meat is returned to the pan and simmered, (partially uncovered), until it is cooked through. The resulting dish offers the best of searing and stewing in one, fragrant, flavorful dish.
About Herbes de Provence
In this version of braising, I add vegetables for their vibrancy, and to make it a complete, one-pot meal. But I also add one of my favorite aphrodisiac ingredients: Herbes de Provence. An intensely flavored herb blend from the south of France, Herbes de Provence typically contain rosemary, thyme and marjoram.
You can buy bottled versions of these dried flavorful herbs, which may or may not contain other herb varieties common in the french region of Provence. You may even find a version featuring dried lavender flowers.
In this variation, I use fresh herbs, since they're bountiful this time of year. I love not only the herbaceous flavor they bring to the dish but also the aphrodisiac influence herbs like rosemary bring to something so mundane as braised chicken.
Braised Chicken with Summer Vegetables, Lemon and Herbes de Provence
Print Recipe
A one-pot meal with the vibrant colors and flavors of late summer, this braised chicken is a no-stress recipe but one to remember.
Ingredients
1

lb

green beans

trimmed and cut into bite-size pieces

1

lb

zucchini

cut in half length-wise, then into half moons

olive oil

salt & pepper

1 1/4

lbs

bone-in chicken thighs

2

tbsp

flour

1

onion

chopped

2

cloves

garlic

chopped

1/4

cup

dry white wine

2

cup

good quality chicken stock

2

sprigs each rosemary & thyme, and 1 bay leaf

1/4

cup

fresh herbs finely chopped: parsley, tarragon and basil

1

lemon

zested and juiced

3

tomatoes

blanched, peeled, seeded and cut into wedges
Instructions
Heat a large Dutch oven over medium-high heat, and add a bit of olive oil to the bottom.

Sear the green beans until browned, season with salt and pepper, and remove from the pan.

Heat a bit more olive oil, sear the zucchini until browned, season with salt and pepper and remove from the pan.

Season the chicken with salt and pepper, lightly toss with flour, and heat more olive oil in the Dutch oven.

Put half of the chicken in the pan and brown, then turn to brown the opposite side.

Remove from the pan, then brown the remaining chicken. Remove from the pan.

Add the onion and garlic to the pan, and brown, stirring occasionally.

Add wine to the pan, then stir to bring the brown bits from the bottom of the pan.

Reduce the wine until slightly syrupy, then add the chicken stock.

Put the chicken back in the pan, add the rosemary and thyme, bring to a boil and reduce to a simmer, then place the lid on the pot and cook for 30 minutes, until chicken is cooked through and fork tender.

Pull the thyme and rosemary sprigs from the braising liquid.

Add the chopped fresh herbs, lemon zest and juice, the tomatoes and the browned vegetables back to the pot, stir together and taste for seasoning.
Love this recipe? Get Diane's book, The Seduction Cookbook: Culinary Creations For Lovers.
Pin this braised chicken recipe:
Latest posts by Diane Brown
(see all)
Get on our mailing list
Don't miss out on a thing! Get news, deals & more!