So I just returned from Oklahoma where last week I helped celebrate National Bologna Day in the town of Drumright. It's a long story on how all that came about. Suffice it to say I like to use real locations and real food in my books whenever possible. It helps gives the fictional novels 'flavor', figuratively speaking. Joseph's Fine Foods in Drumright, OK, and their Signature Fried Bologna Sandwich played a role in the plot of my One Night with a Cowboy (Oklahoma Nights), which is what led to me being part of the celebrations last week. You can read more about all of that HERE.
But sometimes I write about home cooking in my novels, and when I do, more often than not, it's a dish I prepare myself at home. That is true of the Mac & Cheese that the heroine makes for my hero in Midnight Ride (Midnight Cowboys). Here is that recipe and an excerpt from the book. Enjoy! Cat 
Enjoy the Mac & Cheese Excerpt from MIDNIGHT RIDE then scroll down for the recipe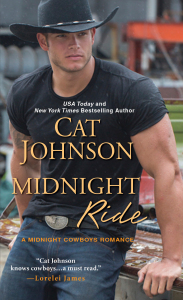 Finally, she sat and Tyler lifted the fork full of food he'd been dying to try. Flavor assaulted his senses as the rich sharp cheddar filled his mouth. His eyes drifted closed and a low rumble of appreciation came from his throat.
He opened his eyes again to see Janie watching and smiling. "I guess you like it."
"Oh, my God. This is the best I've ever eaten."
She rolled her eyes. "Thanks, but you don't have to flatter me, Tyler. I would have invited you to eat anyway. It's the least I can do in exchange for all you've done for me."
"Janie, there's one thing you should know about me." He set his fork down and leaned forward, his forearms braced on the table. "I never mess around when it comes to food. I'm not flattering you. This is amazing."
"Thanks." Her cheeks turned pink and he couldn't help but smile.
"You're welcome." Satisfied she believed he was sincere, he picked up the fork again and dug in for another bite. "What's the spice? It's not jalapeno."
"No." She shook her head. "It's a pinch of cayenne. I bought a cookbook the year I got married and I've been using the old recipes in it ever since. I know a lot of places use other spices and other cheeses, but I just do the same thing as I always did. Plain old sharp cheddar. Oh, and a little bit of mustard, too."
"That's what that other flavor is. Don't change a thing, whatever you do. I don't care what else other places are putting in their mac and cheese, you leave yours just as it is."
She laughed. "Okay. Since you feel that strongly about it, I promise."
Midnight Ride Recipe: JANIE'S HOMEMADE MAC & CHEESE
4 tablespoons butter
4 tablespoons flour
2 cups milk
1 cup shredded sharp cheddar cheese
1 teaspoon mustard powder
Pinch cayenne pepper, salt, fresh ground black pepper to taste
9 ounces cooked macaroni (elbows or shells—whatever shape you want)
Preheat oven to 375 degrees F.
To make the cheese sauce, melt butter in saucepan. Stir in flour and cook, stirring constantly as it bubbles but does not brown (about 2 minutes). Add milk, stirring as it comes to a boil and thickens. Add salt, pepper, cayenne, and mustard. Lower heat and stir in shredded cheddar cheese until melted (about 2 minutes). Set aside.
To make the casserole, in a 1 ½ quart oven-proof casserole dish, put the cooked macaroni. Pour the cheese sauce over the top. Mix gently with a fork. Bake uncovered until top is golden and the sauce is bubbling (about 30 minutes).
Serves four.