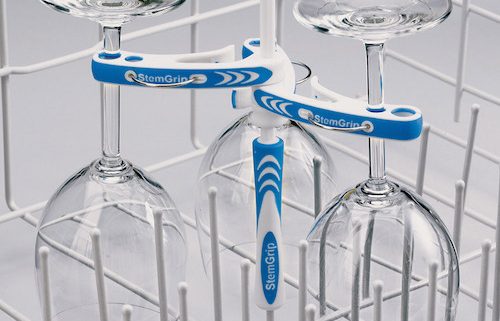 When the makers of Stem Grip heard we were shopping for a wine glass-friendly dishwasher for our test kitchen, they chimed in with a recommendation. It was to get whatever dishwasher you like but use their product. It might be the best way to wash wine glasses.
How does Stem Grip work?
I'm a skeptic but when a sample arrived in the mail, I figured there was nothing to lose in testing their theory, except possible a wine glass or two. A plastic tube designed to fit over a dishwasher tine, Stem Grip has four arms extending from the central tube, each of which gently grips a wine glass stem and holds it securely in place as your dishwasher shakes, rattles and hums.
I've had friends tell me you a certain brand of dishwasher for wine glasses. Nope! Not with this tool. I hesitantly strapped in a trio of stems, (yes, I used the cheap glasses) and sent them for a spin. The glasses stayed safely in place and came out clean and spotless.
The verdict? It really is a better way to wash wine glasses
To say that I love this invention might be an understatement. This really is a better than hand washing for cleaning wine glasses. Not only does Stem Grip keep your expensive stemware safe–and yes, I use it even with the Riedel and my antique glassware–but think of all the arguments it will save over who was the one putting the glasses next to that pot, bowl or plate which came crashing down on your crystal cargo mid-cycle. This peace-keeping gadget is really a little plastic miracle.
One caveat. You may still need to polish wine glasses. I've tried this gadget in a couple of machines and the performance seems to depend on the dishwasher's drying cycle. If you're picky about spots, get a good glass polishing cloth and give the stemware a quick wipe after the washing.
Stem Grip is available in the US and Canada. You can order yours from the company's website for $14.95 or check their retailer page for a store near you. Each Stem Grip holds three glasses and you can use multiple units at the same time, depending on the configuration of your dishwasher.
For those times when you need great glassware on the go, check out these collapsible wine glasses, perfect for picnics and concerts.
And as for a wine to put on those glasses, don't miss my monthly column Woman on Wine for wine recommendations to suit the season.
FREE APHRODISIAC NEWSLETTER
Subscribe to our free aphrodisiac newsletter