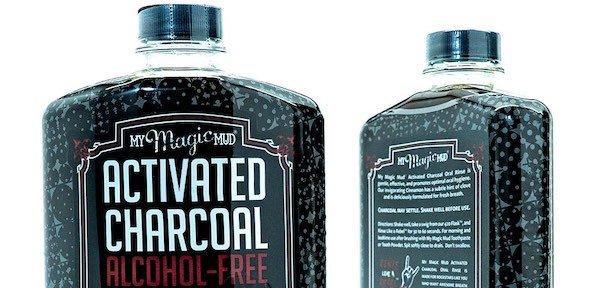 The Best Activated Charcoal Mouthwash
Our articles may contain affiliate links. For more information, view our policies.
Activated charcoal is used around the world to help clean teeth. It's known for being a non-abrasive, breath freshening product. And although it's a commonplace oral care choice in rural communities of the Third World, the power of charcoal is only starting to catch on in the "civilized world." However, now that we've discovered the best activated charcoal mouthwash for dental care combine with flavor, a charcoal-based product from My Magic Mud, we're converts. And we think you will be, too!
Buy My Magic Mud Activated Charcoal Oral Rinse
An alcohol free mouthwash
My Magic Mud's Activated Charcoal Oral Rinse is an alcohol-free alternative to standard mouthwash. It is an anti-inflammatory mouthwash infused with aloe and turmeric. It offers cavity-fighting protection without additives. In fact, this mouthwash is gluten free and fluoride free as well as cruelty free. This is next level, nature-based personal care.
It also stands out from basic brands because it is black. Black as night, which is a little frightening the first time you use it. And for me, swigging this black mouth freshener fills me with heady rebellion.
RELATED: Did you know that eating cheese can improve mouth health?
This activated charcoal mouthwash is the best for flavor
If you've ever searched for a great mouth rinse for flavor alone, (I have), you are really going to appreciate this dentist approved mouth rinse beyond the active ingredients. A gentle rinse, free of any harsh mint flavors, this mouthwash's cinnamon flavor is slightly spicy with notes of clove. It makes the mouth tingle as it freshens breath without the burn of alcohol. On the My Magic Mud website, they even call it a "sensual mouth rinse."
I should let you know that there is a lingering earthy note, (from the charcoal, I assume). But the earthiness is not unpleasant. In fact, it's similar to the earthiness of red wine. Intrigued?
But is it the best mouthwash for fighting bad breath? It worked for me, even after eating garlic. Some users call activated charcoal mouthwashes extra freshening. But that's one you'll have to judge for yourself.
RELATED: A Citrus Yerba Mate Tea that can freshen breath
A great tasting mouth rinse and tooth whitener
Oh, and here's one other thing to consider. There is one other bonus to cleaning with charcoal . Activated charcoal is not only known for its powers to sweeten breath, it's a natural tooth whitener! In fact, it is now clinically proven to improve tooth whitening.
Vegan mouthwash
This activated charcoal mouthwash is not only alcohol free and dentist approved, it is also certified vegan. In fact, all Magic Mud products are vegan.
Other My Magic Mud oral care products
My Magic Mud also makes activated charcoal toothpaste. (Check out my other favorite toothpaste.) Like the mouth rinse, it squeezes out of the tube in a shade not dissimilar to a witch's hat.
It also coats the teeth with a film of darkness. Applied liberally, it gives you the instant look of a member of the Clampett clan. But it rinses cleanly and it does the job it's meant to do. (In clinical studies, it proved effective at removing plaque safely while freshening breath.) And the grotesque factor makes an effective incentive for convincing children to brush. I tried it on my kids. It was love at first blacked-out tooth.
My Magic Mud is a family-owned company with the motto, "Make the world a better place because you're in it." And they are by making the best mouthwash flavor ever invented. Visit the company's website for more information on My Magic Mud.
Order My Magic Mud Mouthwash on Amaz
on
FREE APHRODISIAC NEWSLETTER
Subscribe to our free aphrodisiac newsletter