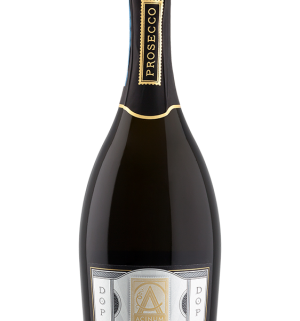 Acinum Extra Dry Prosecco: the affordable way to do bubbly
Our articles may contain affiliate links. For more information, view our policies.
NV Acinum Extra Dry Prosecco, Veneto, Italy
Wine of the Week with Annette Tomei
I'm taking a small liberty with my new mission to only write about first sips–I confess, this is not my first Prosecco. It is, however, one of the first I've enjoyed so much I wanted to write about it! And most interestingly, it's not just any Prosecco, it's an extra dry Prosecco.
Bubble for bubble
Contrary to popular misconception, not all Prosecco is sweet (most are not). Nor is Prosecco a low-budget Italian knock-off of Champagne – though typically budget-friendly, most are great value for the price; and though Prosecco is a sparkling wine, it is made in a different style from Champagne – not a knock-off, but a wine that stands on its own merits that deserves proper consideration. In the world of bubbles, its like comparing apples and oranges – to each her own.

About this wine
Refreshing fruit aromas abound in this wine. On the nose, green apple and white flowers. The palate is juicy with tropical guava, honey, and spice. The mousse is rich and creamy, and the flavor is bright with acidity. There is the slightest bit of residual sugar that contributes to the rich mouthfeel, as well as this wine's affinity for a great variety of foods. Many people reserve their Prosecco enjoyment for Bellinis at brunch. I recommend you enjoy this one in its pure state – ice cold and refreshing… but it still goes great with brunch (and so much more).
The verdict
Easy-going is the Prosecco way – easy on the wallet, easy on the palate, perfect for easy breezy enjoyment. Acinum Extra Dry Prosecco is on the high end of the quality scale, yet is still available for under $10/bottle. The brightness makes it a great pairing for salads, seafood, and veggies. The almost imperceptible sweetness helps make this wine a great pairing for spicy food, eggs and cheeses, and fruit desserts.
My new mission… to taste things I've never tasted before – either because I'm a snob, I can't afford it, or it's just a little too weird. I'll let you know what I thought, and then you can decide for yourself if you will make the splurge, or take the leap into the strange but potentially delicious unknown!
Latest posts by Annette Tomei
(see all)
Get on our mailing list
Subscribe and get our exclusive list of Six Great Sex-Boosting Snack Foods for FREE! Unsubscribe at any time.